Real Estate

---
Gig Harbor Home For Sale Home Search
Gig Harbor and surrounding areas homes for sale, acreage, waterfront homes for sale, view homes for sale, equestrian acreage, and lakefront homes for sale.

Find homes for sale in Gig Harbor with Gig Harbor Home Search!

Realtor directory, homes for sale, and more.
---
Gig Harbor Real Estate Listings - Homes For Sale In Gig Harbor, WA
Gig Harbor Real estate listings for sale in the Gig Harbor, WA area. Fox Island homes for sale, Bremerton,Kitsap Peninsula homes and surrounding areas.

Search for homes by price, view or waterfront.
---
Luxury Homes Washington
If you are looking for a home or land to buy, or to find a home for sale in a city you are thinking about moving to, search our MLS database for prime luxury properties in Washington's most beautiful area; the Gig Harbor Peninsula, Bremerton, Hood Canal, and Key Peninsula.
---

Don & Laura Musgrave - Gig Harbor Realtors
Loyalty - Its Knowing Someone Will Be There For You, No Matter What Happens.

As two of the Gig Harbor area's leading professionals, Don & Laura understand that buying or selling a home is one of life's most critical investments. When you work with the Musgraves, you instantly know just how committed they are to providing you with the answers you need to make sound real estate investment decisions. You also know they will be there every step of the way.

Don & Laura Musgrave have served the greater Gig Harbor, Fox Island area for over 8 years, selling quality homes to satisfied buyers.

Their expertise in finding the right Fox Island waterfront home, Gig Harbor view home or low bank waterfront view home that will meet your needs is unparalleled. Visit them at RainDawg.com and view their Gig Harbor Real Estate listings.
---
Homes For Sale in Gig Harbor - Jeanette Wiley - Gig Harbor, WA Real Estate
I am Jeanette Wiley. My newly updated Gig Harbor real estate website features real estate in the Gig Harbor area, including homes for sale on Fox Island and the greater Peninsula area. I specialize in waterfront homes and view properties located throughout Pierce and Kitsap Counties.

---

Richard Kemp - Gig Harbor's Top Agent
International Presidents Premier & Elite
Ranked in the top 2% in the Pacific Northwest, top 4% nationally, and ranked numerous times in the top 10 agents in the State of Washington.

Richard Kemp--Top Agent and Associate Broker with Coldwell Banker Bain--has 30+ years of experience in customer satisfaction. Integrity, knowledge, and determination are the backbone of his success. Richard is uniquely talented in defining his clients needs and fulfilling their goals. If you are thinking of selling or purchasing a home or property, please contact Richard Kemp.
---

Saltwater Homes - Puget Sound Waterfront Real Estate with Tova Uddenberg
Tova Uddenberg is a full service, residential real estate specialist, listing & selling properties in the South Sound area of Washington State.

She has represented literally hundreds of buyers & sellers from many walks of life & in many price ranges. Whether you are moving up, downsizing, building a custom home, buying new construction or luxury waterfront home and/or view home we have substantial experience that will benefit you. Saltwater Homes was created in 2002 by its current owner Tova Uddenberg.
---

Cherie Carr - Gig Harbor & Puget Sound Realtor
Hi,
My name is Cherie Carr, and I sell real estate in the greater Puget Sound area, including Tacoma, Gig Harbor, Kitsap Peninsula and Bremerton.

View my featured listings and find the home of your dreams.

My four step Luxury Marketing Plan gives your property the most exposure possible in the Puget Sound real estate market.
---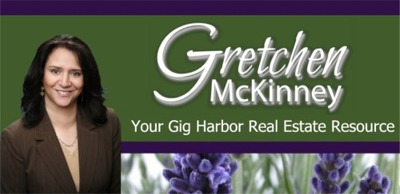 Gig Harbor Living with Gretchen McKinney Realtor
Gretchen McKinney strives to serve clients in a manner that keeps their best interests at heart. Once you have made a decision to move based on a job relocation; are out-growing a home or down-sizing, it is important to research the area and get a feel for how you will adapt. Gretchen will provide you with information on Gig Harbor, Fox Island or surrounding areas in King, Kitsap, Pierce, Mason or Thurston counties. It is her pleasure and privilege to assist you in this important life event. She is Your Real Estate Resource!
---

Gig Harbor Real Estate with Carol Belyeu
Our Strategies...Your Vision
Our real estate team brings marketing savvy, negotiating power and personal service to our clients. We have a combined 50 years of sales, negotiating, and customer service experience, which allows us to offer our clients a wealth of knowledge and options.

Buying and selling a home is one of the most important decisions a person can make in their life. Whether you are a first time home buyer, an investor, or looking for a place to retire, we can help you find your perfect home.
---
Jeanette Wiley & Karen Kenny the South Sound Team
Jeanette Wiley and Karen Kenny love what they do and they share the same vision of providing a higher level of personalized real estate service. Through their dedication, skills and enthusiastic teamwork they strive to provide the most comprehensive home buying and selling services. A majority of their business comes from satisfied clients, who refer friends, family and business associates. They value that as their highest compliment and take pride in the fact that their clients become their "friends". The relationship does not end at closing.
---

Lynn MacGougan - Coldwell Banker Bain Gig Harbor Realtor
If you are looking for a dedicated, hard working Real Estate Professional in Gig Harbor, chances are we'll have a lot to talk about. When you make a decision to buy or sell a home, I'm committed to going that extra mile to ensure that all your real estate needs are successfully met in a professional, honest manner.

Whether you are a first time home buyer, an experienced investor, or are ready to downsize I am prepared to handle all types of residential real estate transactions. No home is too large or too small to receive my utmost attention.
---

West Sound Property Group with Joe Sanchez
This is your one stop source for real estate information to help you through the process of buying and selling real estate.

Specializing in waterfront and view properties in King, Kitsap, Pierce and Mason counties, Joe serves Gig Harbor, Seattle, Tacoma, Bremerton, Silverdale, Kingston, Poulsbo, Port Orchard, Fox Island and Raft Island, plus surrounding communities.

Joe Knows Real Estate!
---